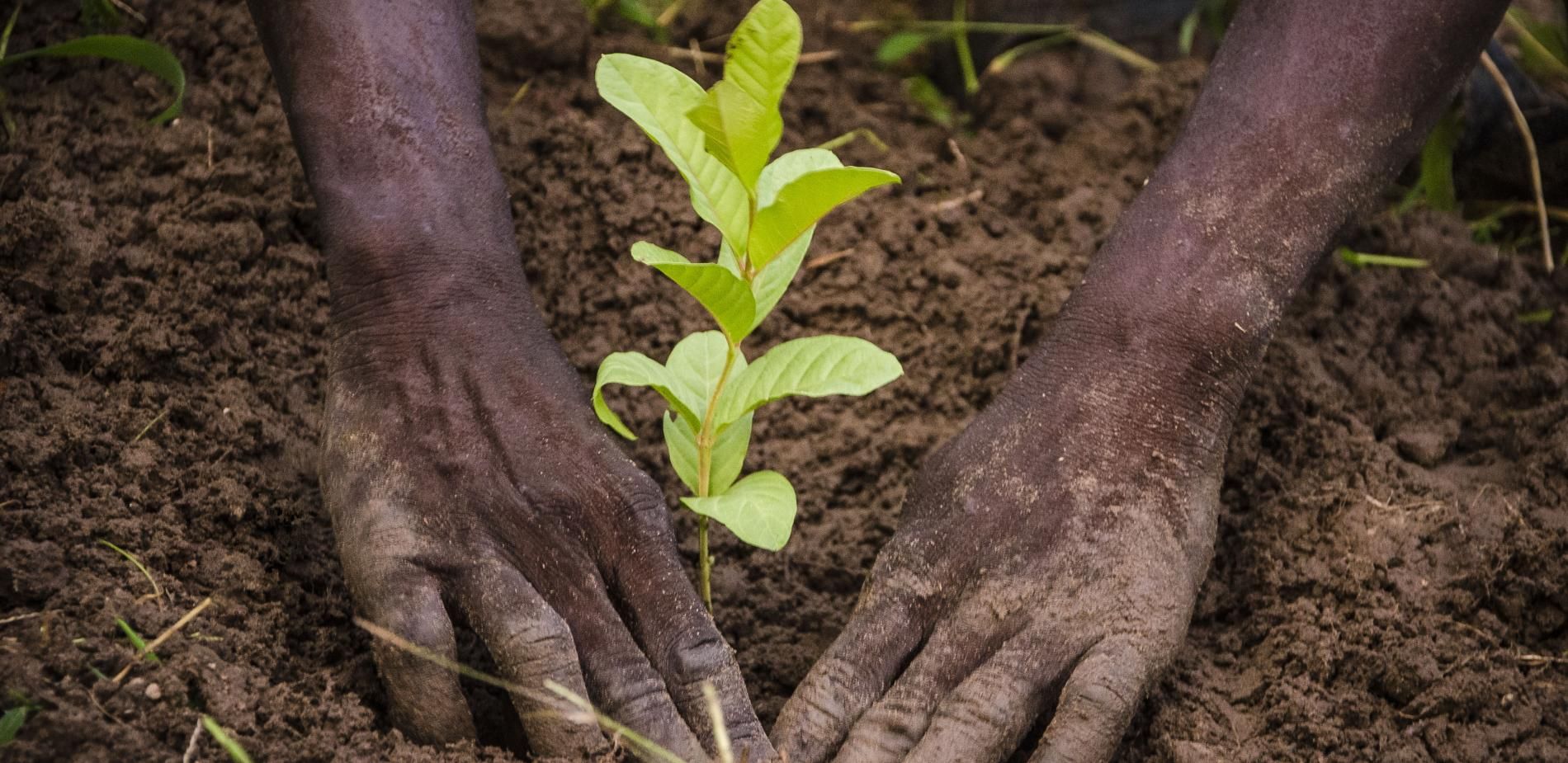 Enquête
Re-greening Africa: a challenge to be met
Deforestation has worsened over the last thirty years. Since 2010, 4 million hectares of forest have been lost each year. However, solutions are gradually being applied…
Aminata Goudiaby, Bakary Traoré, Merry Saka, Talara Odianto, Rachid Alalouche, Boursier Tchibinda, François Ndondo and Elihu Jos Benam, coordinated by Sébastien Hervieu
 - Published on
The Congo basin tropical forest, the world's second largest, is almost five times the size of France. That colossal lung of the Earth spans six countries in Central Africa. But like other locations on the continent, it faces creeping deforestation due to farming and mining. According to United Nations figures, Africa is the only continent where deforestation has accelerated over the last few years. However, inhabitants are increasingly aware of the high value of their trees and are coming up with solutions. For four years now, the Democratic Republic of the Congo has been transferring ownership of thousands of hectares of trees to some of the communities that live in the tropical rainforest. That provides a powerful incentive to manage them sustainably, for instance by limiting the production of charcoal for cooking. Around forty such concessions have been granted and the initial results are encouraging, since deforestation rates are slowing and poverty is declining.
Africa facing deforestation
Forest cover is continuing to shrink on the continent. There are a number of reasons for the phenomenon.
The tropical forest of the Congo basin is the largest in the world after the Amazon. But in Africa, deforestation has accelerated since 1990. The continent lost an average of nearly 4 million hectares a year between 2010 and 2020 according to the United Nations Food and Agriculture Organisation (FAO). However, deforestation is not evenly spread across the continent. In Central Africa, the shrinkage of forest cover fluctuates between 0.4% and 0.5% a year, while in West Africa, it exceeds 2%. The Côte d'Ivoire is a symbol of this loss. There were only 3 million hectares of forest left there in 2019, compared to 16 million in 1900! On average, the country lost forest cover equivalent to 15,000 football pitches each year.
There are various reasons for deforestation. First, community subsistence activities. There is still widespread slash-and-burn farming, the use of fire to clear land and enable the growing of food crops. Consumption of firewood for heating and cooking is also high. According to the FAO, the continent consumes 625 million m3 of wood each year, equivalent to the volume of just over 160,000 Olympic swimming pools. Since population growth is estimated to be 2.7 % a year, that figure could increase. Apart from urban expansion, industrial exploitation also reduces forest cover. Concessions are thought to have been granted for the use of 44 million hectares of forest, but that figure does not take into account illegal logging, a major scourge on the continent.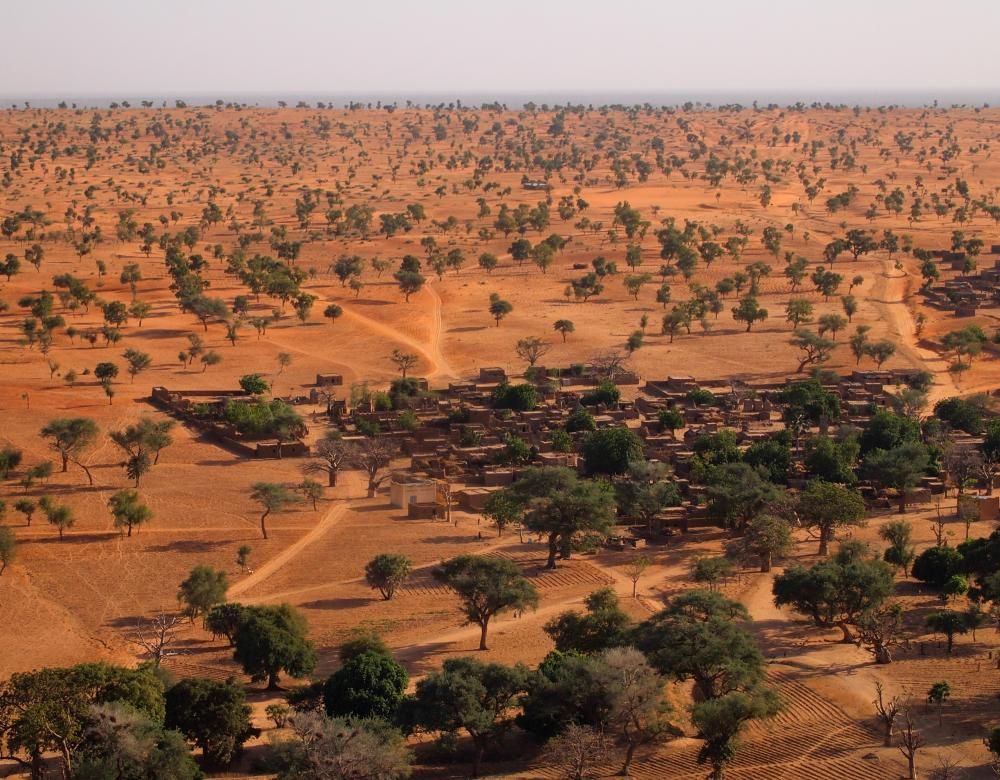 More trees than expected in the Sahara and Sahel
There are more trees in the Western Sahara, the Sahel and the Sudanese region than scientists previously thought. That is the astonishing conclusion reached by an international team of researchers in 2020. Using satellite data (more than 11,000 high-definition images) combined with an artificial-intelligence programme, they were able to determine the number of trees there with a level of accuracy never achieved before over such a large area. The scientists counted 1.8 billion trees over a zone two and a half times the size of France. This new detection method could prove invaluable in the study of biodiversity and the impact of climate change.
The reforestation challenge
To combat deforestation, African states have implemented reforestation policies. But the results are not always convincing.
Senegal is one of the continent's better reforestation models. In September 2020, a special new operation was launched to plant nearly 20 million trees nationwide, including baobabs and khaya trees, which are better suited to poor soil. How did that work? The government supplied saplings free of charge; it was up to the inhabitants to look after them. Combined with local initiatives, the national drive is helping to reduce the number of hectares of forest lost each year, from 80,000 to 40,000 in less than ten years. But not all the countries in the region have been so successful. Launched in 2007 to combat desertification in the Sahel, the Great Green Wall project has been disappointing so far. From Senegal to Djibouti, the eleven countries participating in the operation are supposed to create a vast strip of vegetation 8,000 km long and 15 km wide, but only 4 % of the 2030 objective has been achieved –4 million hectares of land have been planted, compared to the programme's goal of 100 million.
There are a number of reasons for this: a lack of political will, underinvestment, insecurity related to jihadi attacks, and technical difficulties. Also, mistakes have sometimes been made in the implementation of national reforestation plans, such as planting tropical forest species in savannah zones or planting trees in areas that have never been wooded. Even so, in January 2021, the pan-African project, whose total budget is 33 billion dollars (28 billion euros), was given a boost by the announcement of a 14-billion-dollar contribution by international funders, including France.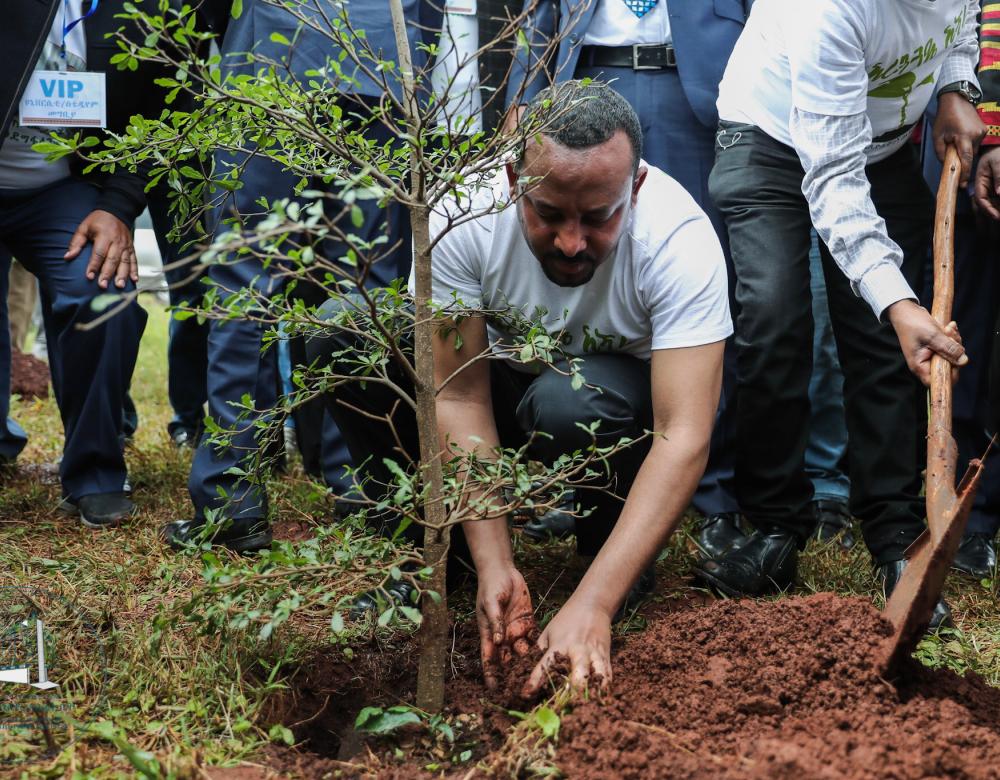 Questionable reforestation in Ethiopia
According to the country's authorities, Ethiopians planted 353 million trees in a single day, on 29 July 2019. That was a spectacular initiative of the 'Green Heritage' programme led by Prime Minister Abiy Ahmed. However, critical voices were soon heard. They questioned the commitment of populations, the accuracy of the number of trees claimed to have been planted and the sustainability of the operation, given that the land chosen was not always fertile or appropriate. Indeed, in one year, more than a third of the saplings were swept away by rain. Between 2000 and 2015, out of 4 billion trees planted according to official figures, barely 20 to 30% survived.
The fruits of hope
In rural areas, reforestation now includes the planting of fruit trees with the aim of encouraging local economic development.
Fruit trees are increasingly part of reforestation programmes across Africa, whether they are promoted by governments, international organisations or NGOs. Why? The trees provide additional income and dietary supplements for the rural populations who sell and eat their fruit. For instance, in Moroccan villages, the Ibn Al Baytar environmental-protection association (AIB) encourages inhabitants to plant lemon, olive, palm, date, carob and almond trees. In eleven of the country's regions, 32,000 hectares of fruit trees were planted in the 2019/2020 season and 36,000 hectares were planned for 2020/2021. The association estimates that the initiative has provided 36,000 hours of paid work. In Senegal's Thiès region, a farmer named Cheikh Babou has devised a technique for growing mango saplings despite the lack of water. How? By placing seedlings under wild nguiguiss shrubs, which protect them from the sun, the harmattan wind and wandering animals. In West and Central Africa, an increasing number of agricultural training centres teach farmers techniques such as the rooting, grafting and layering of indigenous species. The aim is to help them produce improved varieties of certain fruit, such as bush butter, akpi, bitter kola or African mango.
Improved management of protected areas
To better combat bushfires and illegal logging, the Central-African Forest Observatory (OFAC), an intergovernmental organisation, uses IMET software. Designed for managers of protected areas, IMET combines data gathered in the field and interprets them. No more dubious intuition required: IMET identifies weaknesses in the management of nature reserves.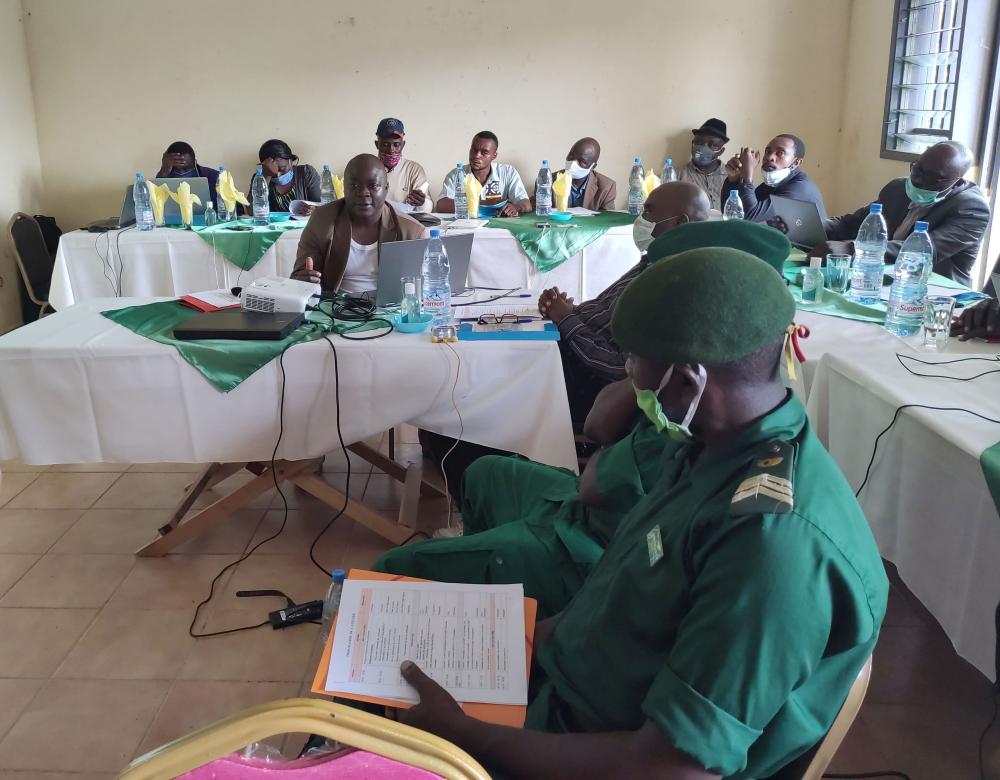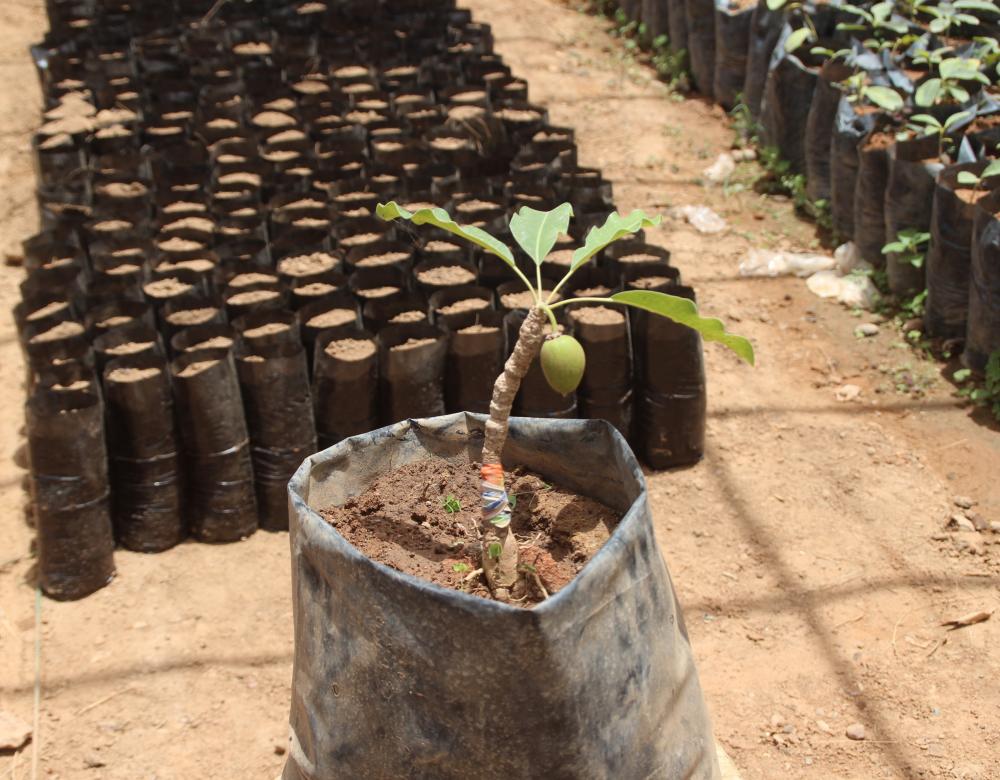 Microorganisms to save the shea tree
A shea tree that blossoms after only 5 years compared to the usual 20: that is the achievement of Burkinabe researchers from the Environmental Institute for Agricultural Research (INERA). Their country is the world's second producer of shea butter and they have developed an experimental technique to restore shea trees threatened by deforestation. The idea is to inoculate young saplings with strains of mycorrhizal tree fungus to improve their growth. The shea, whose fruit contains whitish oily kernels, is a major source of income for the rural population, especially women.
Drones to sow seed
Madagascar has set itself the challenge of planting precious trees such as rosewood, or rapid-growth varieties such as acacia, from the air. To do this, the authorities plan to put ten or so drones into service this year. Equipped with multispectral cameras enabling remote laser sensing, the aircraft locate the best places to sow seed. They then drop small biodegradable capsules that contain germinated seed and supplementary nutrients. The aim is to sow 400,000 seeds a day, particularly in areas that are hard to reach. Madagascar plans to replant 4 million hectares of trees by 2030.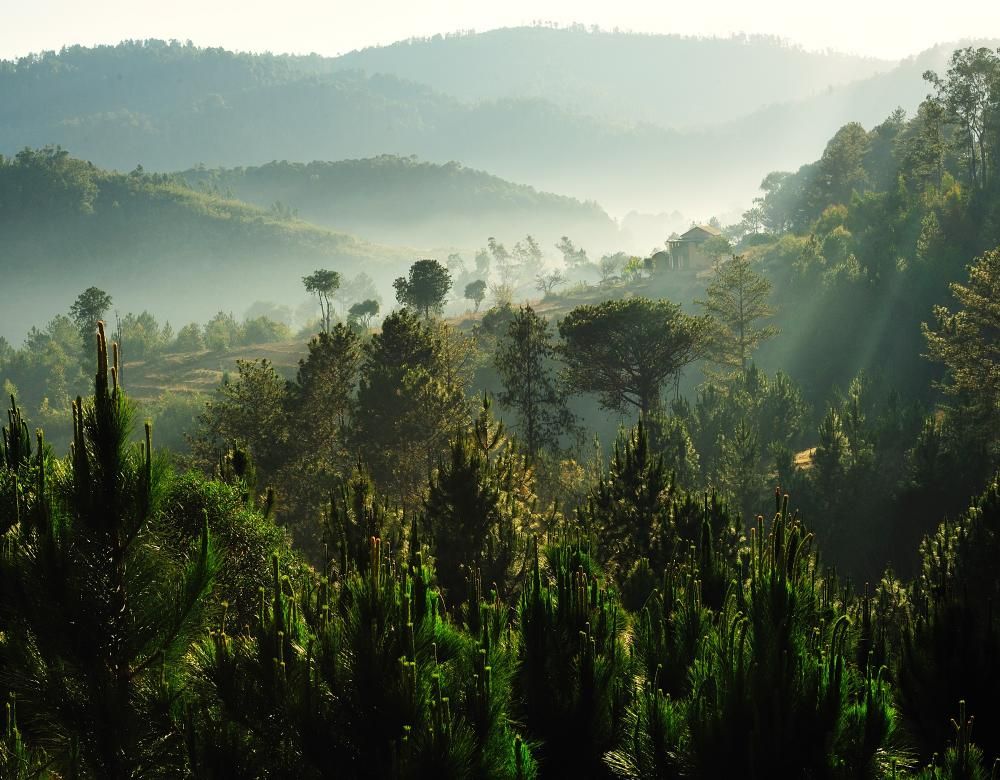 Mapping in partnership with local inhabitants
To protect forests, it is essential to involve local communities. Examples in Cameroon and Burundi…
How can satellite data on the state of forests be made available to populations in remote areas with no electricity or Internet? In Southeast Cameroon, an NGO – the African Conservation Foundation – directly shares this information from the Global Forest Watch open-source application with local inhabitants. Using the data, communities make 3D cardboard maps. Thanks to this collective modelling, they can improve knowledge of the state of the forest in cooperation with researchers. And they update the maps according to their own observations in the field – whether to show the shrinkage of forest cover or the real scope of concessions granted to forest operators. The need for mapping is even greater because inherited oral knowledge of the forest is being lost as younger people leave for the cities. In Southern Burundi, the Batwa community is closely involved in the protection of regional forest ecosystems. In the Bururi Forest Nature Reserve, inhabitants mark the boundaries of the protected area and lay out and maintain the firebreak path. By recording GPS coordinates, they have helped to produce the first georeferenced map of the country.
Email alerts
Trees have gone? An email will let you know. That is the idea behind the GLAD (Global Land Analysis & Discovery) satellite monitoring system developed by the American University of Maryland and used since 2017 by seven countries of Equatorial Africa, including Gabon and the Democratic Republic of the Congo (DRC). It relies on high-resolution images from two NASA satellites to detect damage caused by fires or illegal logging. If forest cover shrinks, a weekly alert is sent to subscribers free of charge.
In this image: GLAD deforestation alerts in Central Africa between 2015 and 2020.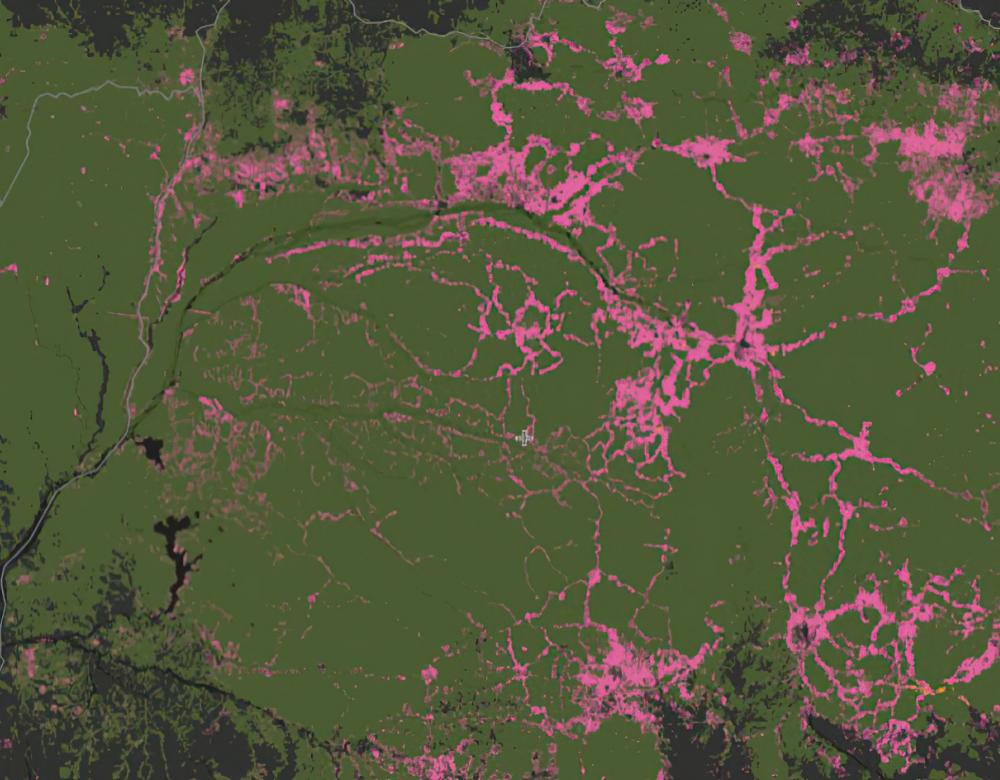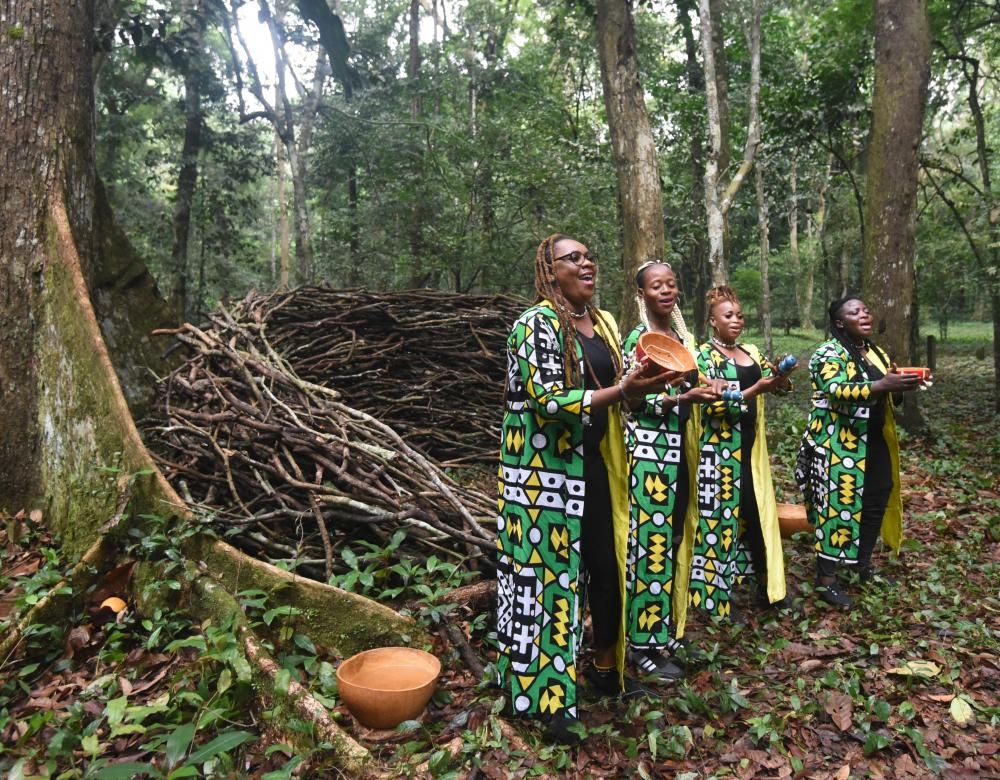 Protecting sacred forests
Some African forests are sacred, such as Attiégouakro in Central Côte d'Ivoire. Villagers of the Nanafouè-Baoulé people worship their ancestors and gods there, offering up sacrifices to secure their protection. To protect the area from deforestation, the locals have set up a monitoring committee. Fines are imposed on young inhabitants who act as guides for illegal loggers. In 2019, Côte d'Ivoire launched a national plan for the rehabilitation of sacred forests, relying on awareness initiatives, increased powers for traditional chiefs and better legislative protection.